The History of Alpha Kappa Alpha Sorority, Incorporated®
Alpha Kappa Alpha Sorority, the oldest Greek-Letter Organization established by black college women in America, was formed in 1908 at Howard University. Led by Ethel Hedgeman Lyle, the group formed in 1908 a sisterhood that burgeoned four years later when a new dimension was added.
– National Organization and Perpetual Membership.
The small group of women who organized Alpha Kappa Alpha Sorority were conscious of the privilege and responsibility of college trained members of a minority group just one generation removed from slavery and then young women were determined that their college experience should be as meaningful and as valuable as possible in enhancing the plight of those in need.
Today the influence and concerns of Alpha Kappa Alpha Sorority, Incorporated® extend far beyond campus gates and student interest. The major goals of program activities are centered upon significant issues in our larger national life and focus on challenges that are raised on every side, from remote concerns of depressed communities to the halls of the government.
The sorority has flourished into a globally-impactful organization of over 265,000 college-trained members, bound by the bonds of sisterhood and empowered by a commitment to servant-leadership that is both domestic and international in its scope. As Alpha Kappa Alpha has grown, it has maintained its focus in two key arenas: the lifelong personal and professional development of each of its members; and galvanizing its membership into an organization of respected power and influence, consistently at the forefront of effective advocacy and social change that results in equality and equity for all citizens of the world.
Gamma Omicron Omega Chapter
Alpha Kappa Alpha Sorority, Incorporated®
Chartered in 1942
The Gamma Omicron Omega Chapter is located in Tyler, Texas, the "Rose Capital" of the world. It was established on the principles, ideals, and aspirations of our national sisterhood, the Alpha Kappa Alpha Sorority, Incorporated®.
In the early 1940's Willie Lee Glass, Julia Warren, Zephie Brooks, Alice Long, and Doris Novell were young Alpha Kappa Alpha women who longed to continue their commitment to service and maintain the sisterly bonds that joined them during their college years. They were among the charter members of Gamma Omicron Omega Chapter, which was certified March 11, 1942. Other charter members included Venetta Collins, Iola Pendleton Fowler, Nellie Smith Lee, Alice Moore Long, Audrey Duconge Neal, and Connie Yerwood Conner Odom.
Willie Lee Glass was head of the Home Economics Department at Texas College where she worked from 1938-1950. She served as a supervisor for the Home and Family Life Education Department of the Texas Education Agency for 24 years. She was the first President of Gamma Omicron Omega Chapter, 1942-1944.
Connie Y. Conner Odom served as the 4th South Central Regional Director from 1941-46, when Gamma Omicron Omega was chartered in 1942.
Zephie Brooks was a graduate of Bishop College and studied at Prairie View A&M University and Northwestern University. She taught English at Emmett Scott High School in Tyler, TX. She served as the 5th South Central Regional Director in 1946-47 and the second President of Gamma Omicron Omega Chapter, 1945-1947.
Julia B. Warren was a librarian at Texas College from 1948-52 and the assistant librarian at Tyler Junior College from 1953 until her retirement in 1982. She served as President of Gamma Omicron Omega Chapter, 1948-1951.
Eugene B. Long served as the 7th South Central Regional Director from 1951-55 and International Treasurer. She was Registrar at Texas College and Tyler Junior College. She served as President of Gamma Omicron Omega Chapter, 1952-1956.
Gamma Omicron Omega Chapter meetings are held at 1400 W. Lollar St., Tyler, Texas. The building formerly the Ella Reid Library (Negro Public Library), was purchased by the chapter in 1972.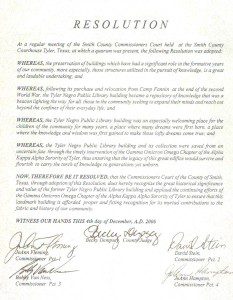 Terry Childers, Tyler's Assistant City Manager at the time, assisted the chapter in submitting a grant for this purchase.  In January, 2007, the building was designated as an historical landmark due to the efforts of Tyler Historical Preservation board member, Dorothy Franks, and Chapter Historian, Martha McCormick.  At the suggestion of chapter member, Greta Moore-Dixon, the building was named the Ivy Service Center.
Gamma Omicron Omega Chapter continues to make a difference in the Tyler community with exemplary programs.
Current Programs |International Leadership | South Central Region Leadership | Current Chapter Officers